Firstly, please do not attempt to reset your equipment unless instructed by a member of Community Fibre's staff - this will ensure no settings are lost or otherwise altered.
Step 1:
Make sure that your parent router is connected to a power source and turned ON.

IMPORTANT: A parent router refers to the node that is physically connected to your modem. All other nodes in your Velop system are considered child routers.

Step 2:
Press and hold the reset button at the bottom of the device. The light on top of the parent router will turn red and fade in three pulses. Do not release the button until the light goes out and then turns bright red.
For SUPERFAST/75Mbps users who have the Linksys Dualband Router (Model WHW01) please see the correct position of your router password below: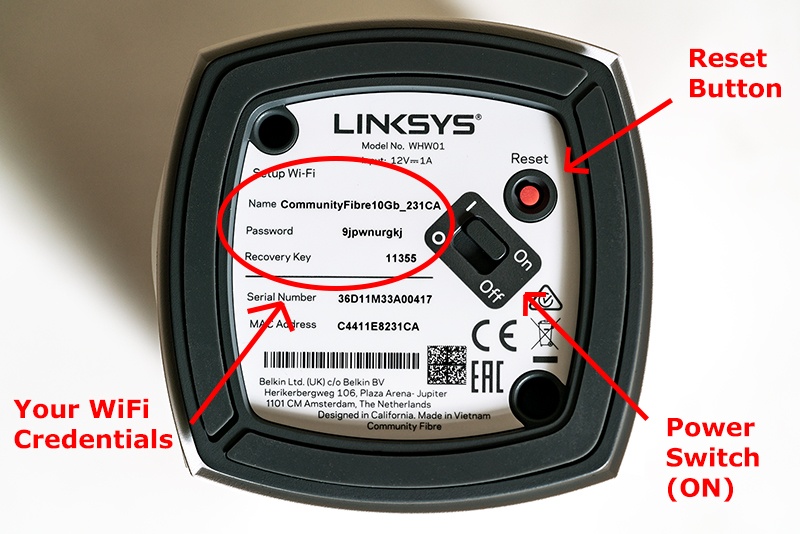 After you reset and reconfigure the parent router, all child routers will no longer be part of your Velop network.
Step 3:
Once you're done resetting the parent router, perform the same steps above on each child router.
Step 4:
When you've successfully reset all your routers, you should now be ready to set up your parent router and child routers again. Click on the links below for instructions:
Setting up the first or primary node of your Velop system using an Android™ device
Setting up your Velop system with an iOS mobile device
Adding a node to your existing Velop system using an Android mobile device
Adding a child node to your Velop system using an iOS mobile device
Step 5:
After you're done setting up all your routers, check if everything has been added to your Velop network by going to
Velop Administration
. To access this page from the dashboard using an iOS device, tap the menu
icon then tap
Network Administration
. If you're using Android™, tap
Velop Administration
.